Why Leave the Content at the Conference?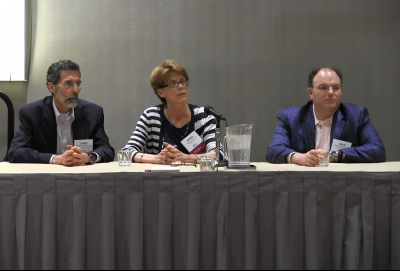 Take advantage of all the preparation by your polished presenters by having Event Lenz record your conference sessions or seminar.  Whether you need your entire conference recorded, specific tracks of content or even a "Best of", having these presentations available to those who didn't attend (or even for those who did) is a valuable, and possibly revenue producing, asset for your organization.
We typically set up in the back of the room so we don't obstruct anyone's view, connect to the "house sound" and shoot the presenters in HD quality video.  We also have an option to record the speaker's PowerPoint navigation for a picture in picture video presentation that's almost as good as being there (maybe better since you can pause it and hit play when you need to).
Take a look at the options below or contact us for a customized quote on your conference videography project.
Straight Video – Enlarge Video Using Button in Lower Right Corner
Picture in Picture Video w/PowerPoint Slides – Enlarge Video with Full Screen Button
Straight Video
Single HD Videographer with Quality Audio (external mic)
$150per hour shoot
Book Now
‌

‌

‌ 1 Videographer with HD camera
‌

‌

‌ Connected to House Audio or our mics
‌‌

‌

‌ RAW video files or encoded mp4
‌

‌

‌ Delivered on Flash drive or online
‌

‌

‌ Travel and Expenses are additional outside of Baltimore/Washington metro areas
Straight Video Pro
Add a 2nd Videographer for Different Shots, B Roll , etc.
$200per hour shoot
Book Now
‌

‌

‌ 2 Videographers with HD cameras
‌

‌

‌ Connected to House Audio or our mics
‌

‌

‌ RAW video files or encoded mp4
‌

‌

‌ Delivered on Flash drive or online
‌

‌

‌ Travel and Expenses are additional outside of ‌Baltimore/Washington metro areas
Picture in Picture
Single HD Videographer with Quality Audio (external mic)
$300per hour shoot
Book Now
‌

‌

‌ 1 Videographer with HD camera
‌

‌

‌ PowerPoint Navigation recorded with PIP of speaker
‌

‌

‌ Connected to House Audio or our mics
‌

‌

‌ RAW video files or encoded mp4
‌

‌

‌ Delivered on Flash drive or online
‌

‌

‌ Travel and Expenses are additional outside of Baltimore/Washington metro areas